Foundation and Top-up Degree Programmes
Southwark started the Foundation Degree programme run in association with The Learning Institute and Worcester University aimed at teaching assistants, unqualified teachers and all those involved in childcare wanting to improve their professional standing or qualifications. Those wanting to find a route into teaching / Early Years professional status, it is a work-related two-year course including tasks to be undertaken in an educational setting.
Programme Overview
The foundation degrees are classed as full-time due to their work-based nature, meaning you are entitled to apply for all of the relevant funding available from Student Finance England.
However, your attendance at taught sessions is required for only one day (e.g. 1.00 p.m. – 7.30 p.m.) per week, and at two student conferences (Friday evening and Saturday) per academic year.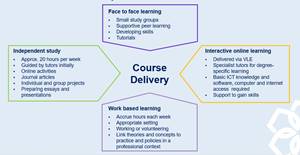 Key Features of the Course
Completing students can progress to a "top-up" third year of study in a BA Professional Practice.
At the start of the Academic year, students are required to be working or volunteering in a setting of their choice. This must be with children or young people between the ages of 0-19 years for a minimum of 10 hours per week.