The Racially Literate Curriculum Hub
The Racially Literate Curriculum Hub is accessible to schools who are interested in re-thinking and re-designing their curriculum provision to meet the unique needs of their pupils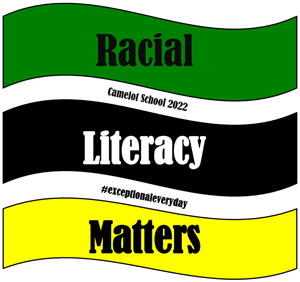 The need for change and adaptation to the local context of Southwark in 2022 has improving racial literacy at the heart of our educational responsibilities and priorities at this time. Southwark Council's pledge to our community is a key driver for our decision to extend wider than our own school the motivation for more schools to adapt their curriculum offer.
As professionals in a diverse school we are on the same journey as any participant school and we look forward to travelling on the path towards a more racially literate curriculum to all our pupils and our community at this time.
Our Aims
We are seeking to support schools to develop the capacity and expertise to bring about improvement through self-evaluation, targeted improvement plan and a consistently high quality of leadership and teaching. Through high quality discussion we aim to help schools develop an understanding of how curriculum intent has to be focused on decision making that promotes an inclusive, racially literate provision. We will seek to address the issue of social disadvantage through a focus on promoting racial literacy working to raise its profile across the implementation of a school's curriculum provision.
We would like to invite any Southwark school with the passion and freedom to review their curriculum and up-skill their racial literacy offer to their pupils and community to join us in our hub.
Our Racially Literate Curriculum Hub will be a curriculum training programme combining leadership conferences, senior leader workshops as well as practical sessions in school.
The Common Principles
Our vision is that schools accessing our hub offer will contribute to achieving borough wide aims through participating and achieving Closing the Attainment Gap aims in many areas, not least in the promotion of pupil oracy and language outcomes. In addition, school leadership teams will engage in exceptional joined up school improvement action planning and delivery. The hub will facilitate a school led, proactively delivered educational entitlement to all pupils that aligns closely to the Southwark Stands Together pledge. High quality local delivery partners will be engaged to ensure that specialist expertise is accessed to expand the offer made to all participating schools. Support at governance level will complement that offered to school leaders.
The schools engaging in our hub offer will participate in understanding how curriculum intent has to be focused on decision making that promotes an inclusive, racially literate provision. A whole school approach will be shared demonstrating how the curriculum provision will improve attainment outcomes for pupils. Activities will include observation of how pupil engagement and self-esteem is central to any closing the gap agenda for schools and how the curriculum offer is at the core of how this can be achieved. Year Two activities will include international school partnerships with established partner schools across Africa.
We have developed a depth of expertise amongst our teaching team and this has been acknowledged and celebrated across the last eighteen months, notably in our remote education provision to our pupils and community. Our exceptional experience, skills and talent have been noticed by other local schools and our hub will be the springboard to share our core areas of excellence which are driving up school improvement at our school.
Our hub offer will be provided in line with the common principles of delivery for hubs and promote the successful engagement of all schools in a shared school improvement offer.
Hub School
Camelot Primary School are the hub school for the The Racially Literate Curriculum Hub.