PriceLogin to view prices
CategoryAssessment and Curriculum
Target audienceEarly Years Foundation Stage
CPD points1
Total hours1.5
Type1 session/s
CodeEYFS11523
Aims
The session will involve a series of table top experiments from conducting dough to 3D bubbles and plants to make sun prints. Dr Jasmine Pradissitto will demonstrate how one experiment can be looked at from the perspective of materials to physical processes and the natural world. Almost any object we can think of or collect can be fundamental to some investigation and it is central to our adaptation to a more sustainable future. All make use of that which is natural to young children: their senses, a sense of play, curiosity, and their natural ability to be divergent in their thinking, which are also skills being increasingly requested in all professions as we fully enter a 21st conceptual age. The experiments are documented and will be shared.
As part of this new age is so deeply entrenched in new technologies, Jasmine will also demonstrate how easy it is to use an AI platform such as Chat GBT to access the scientific explanation behind these experiments thus liberating teachers to be even more creative in their classrooms.
We would like to invite curriculum leads as well as early years leades to attend the session to find out more about science in the early years and its links to year one and beyond.
Summary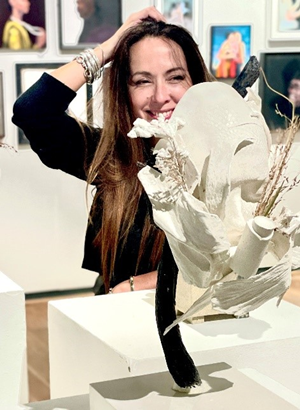 Jasmine Pradissitto FRSA is an award-winning London based British artist, scientist, speaker, and environmentalist who has a Ph.D. in physics from UCL and has studied art at Goldsmith's and London Met. A polymath, her critical practice spans painting, sculpture and technology and she is the only artist in the world licensed to use NOXORBTM, a newly developed ceramic material that absorbs nitrogen dioxide (NOx) pollution from the air. The same NOx that exacerbates asthma. Pradissitto has exhibited worldwide including most recently two pioneering public art projects in London for The Horniman Museum Gardens (winner of Museum or the Year Award 2022) and for Camden People's Theatre with Euston Town, a Mayor of London environmental initiative.

At the heart of a sustainable future in an increasingly Anthropogenic world, lies provision for the most fundamental of our needs, air, water, equity. Pollution, a by-product of a human progress based on combustion and intensive farming, affects not only 9 out of every 10 people globally, but also species from bees to flowers.

As we enter the 'Conceptual Creative Age' we can find an answer based on one of the best things which make us human: our stories. In science we are bound by the natural laws, in art and culture simply by our imaginations, but by joining the two, within an increasingly fragile natural world we can create impactful solutions to the most pressing problems of our modern age: climate crisis.

2023 Commission for The Ella Roberta Foundation, 2021 Winner of the PEA (People, Environment, Achievement) Arts award, 2020 DEFRA Award 'Bees Knees' with the Horniman Museum, 2022 Museum of the Year

}